Using the Contacts App¶
The Contacts app is not enabled by default in ownCloud 8 and needs to be enabled seperately. It is also not a supported core app. You may ask your ownCloud server admin to enable it, and if you are your own admin consult the Installation > Installing and Managing Apps section of the ownCloud Server Administration Manual.
The ownCloud Contacts app is similar to other mobile contact applications, but with more functionality. When you first access the Contacts app, a default address book becomes available.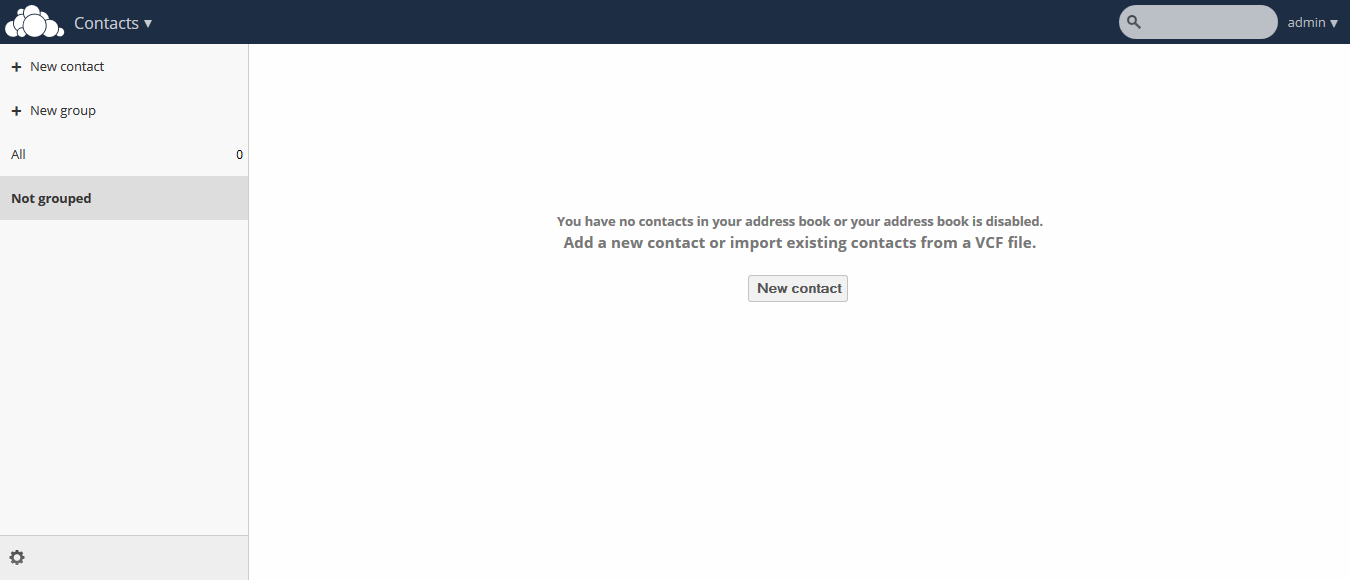 In the Apps Information field for the Contacts app, you can choose to create a new contact or a new group. This field also enables you to filter your contacts based on grouped or ungrouped contacts.
Adding Contacts¶
You can add contacts using one of the following methods:
Import contacts using a Variant Call Format (VCF) file
Add contacts manually
Managing Address Books¶
Clicking on the settings (gear) button at the bottom of the Apps Information field provides access to the Contact app settings. This field shows all available address books, certain options for each address book, and enables you to create new address books.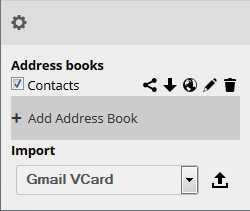 The Contacts settings enables you to share, export, edit, and delete address books.
Note
Hover your cursor over each icon to see a brief pop-up description.
Adding an Address Book¶
To add an address book:
Click the

+

Add

Address

Book

option in the Contacts settings field.
A field opens requesting you to enter a display name for the new address book.
Specify a display name for the address book.
Click the checkbox icon to create the new address book.
Synchronizing Address Books¶
One of the most important features in any contact application is the ability to keep it in sync. The ownCloud Contacts app enables you to sync your address books to external devices that use the Android or Apple iOS operating systems.
Synchronizing With Android¶
To synchronize with an Android device:
Install CardDAV- Sync free from the Google play store by visiting this link. This app supports auto-configuration.
Note

Following the installing, visit carddavs://example.org/remote.php/carddav/ to auto-configure the app.
Enter your login details.
After the app has checked your login details, select the

Sync

from

server

to

phone

only

option.

Synchronizing With Apple iOS¶
To synchronize with an Apple iOS device:
Open the settings application.
Select Mail > Contacts > Calendars.
Select

Add

Account

.
Select

other

as the account type.
Select

Add

CardDAV

account

.
For

server

, enter http://example.org/remote.php/carddav/principals/username
Specify your username and password.
Select Next.
If your server does not support SSL, a warning is displayed. Select

Continue

.
If the iPhone is unable to verify the account information, perform the following:
Click

OK

.
Select

advanced

settings

.
Make sure

Use

SSL

is set to "OFF".
Change the port to

80

.
Return to "account information" and click

Save

.

Your contacts appear in the address book of your iPhone.
Special CardDAV URLs¶
Additionally, the Contacts app is providing an URL for special functions:
Export an address book as a vCard file